La Roca Village
La Roca Village, along with Las Rozas Village in Madrid, one of the nine Chic Outlet Shopping ® Villages by Value Retail in Europe. The Village has over 100 boutiques of domestic and international premium brands with discounts up to 60% throughout the year and sometimes even más. Sus boutiques distributed along a lovely boulevard outside the mall in turn a unique experience. Bimba & Lola, Escada Sport, Hoss Intropia, Michael Kors, La Perla, Pretty Ballerinas, Ray Ban, Sita Murt, Swarovski, TCN, or as recent additions Goes by Guy Laroche, BDBA, Tous, Sandro, Maje, Goose or Juicy Couture, are just some of the most prestigious boutiques that have made the Village a destination for lovers of fashion and style purchases..
La Roca Village Outlet Shopping
Enjoy a luxury experience. Delight in La Roca Village Outlet Shopping, shopping in a world of over 100 brands at prices discounted up to 60% throughout the year. 40 minutes from Santa Susanna, towards Granollers, this village-style Catalonian offers a wide range of services: tourist office, tax free, restaurants with terraces, playgrounds, etc..
If you prefer you can also book your tickets for the Shopping Express ® Tour, a luxury coach service direct from Santa Susanna to La Roca Village.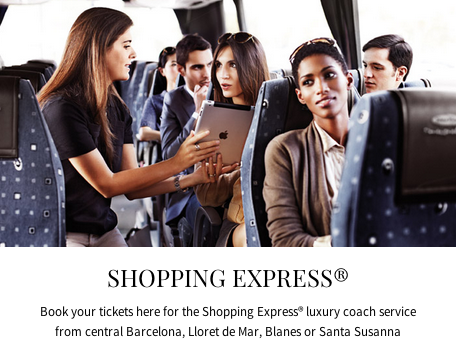 LONG SUMMER DAYS (June 2 to September 13)
Open Monday to Sunday from 10 to 22h.
VILLAGE CLOSED
September 11, 2014
25 and December 26, 2014
CHRISTMAS
On 24 and 31 December, the Village will close at 19pm
More information: www.larocavillage.com.